5 Modes of Transport Only in the Philippines
Made by Filipinos, for Filipinos – you won't find these vehicles anywhere else in the world. Go!
No one would have thought that a short phrase had such a huge impact and could change the history of the country. Indeed, the ability of the Filipino should never be underestimated.
With over 7,000 islands, the Philippine archipelago offers a variety of ways to get to any desired destination. And being the originals, the Filipinos didn't just mean any other vehicle; it had to be married to the Filipino culture, and something special that the Filipinos could provide.
Today, the Philippines can offer several options on the topic of transportation that have become proof of the promise, and made them available not only to Filipinos, but to foreign visitors as well. Travel with these 5 modes of transportation found only in the Philippines.
Jeepney
Filipinos enjoy socializing, even if they don't know each other closely, and the jeepney's passenger compartment makes it easy. Crowded, but not offended – nothing brings people together like jeepneys – and this is a good chance to make new friends in a short time. A luxurious and colorful vehicle, the jeepney is the king of the roads and a legendary symbol of the Philippines that can be caught just about anywhere. They are the main land transport where buses and taxis do not go, and they are also the cheapest means of transport.
If you are riding a jeepney for the first time, these general rules will help you, although having a companion would be better: 1) If you are not sure about your route – ask the driver where he can drop you off. Some drivers tend to forget about passenger requests, so remind them from time to time. 2) The phrase "bayad po". You say these words to pass the fare to the driver. 3) The phrase "para po". If you already know or have seen your stop, shout these words to the driver, and this will serve as a signal to stop the vehicle. 4) When riding a jeepney, keep an eye on your belongings. People may be friendly, but sometimes they use it as a distraction to steal your belongings.
Tricycle
Tricycles are less visible on major highways in the Philippines. Being smaller in size, they are used to travel short distances, and usually run in towns and villages. In many cases, tricycles can be rented for your needs, remembering to agree on a price for the trip in advance. You can also ride block tricycles, together with other passengers – in this case, the trip will cost less, where the price is divided by the number of passengers.
A tricycle is a motorcycle with a covered sidecar, reminiscent of motor rickshaws in India and "tuk-tuk" in Thailand. The maximum number of passengers is usually 7 people.
Trishaw (Pedicab)
Trishaw (Pedicab) One man power, quiet and environmentally friendly.
Also known as a "padyak" or "trikad", a trishaw is a bicycle with a sidecar that resembles a tricycle, but is less noisy, apart from the squeaking of the pedals. This mode of transport can be found in small towns or villages, where it is usually allowed to move through secondary streets and lanes where jeepneys and buses cannot or are prohibited. The cycle rickshaw can take on board 2 – 3 people per trip.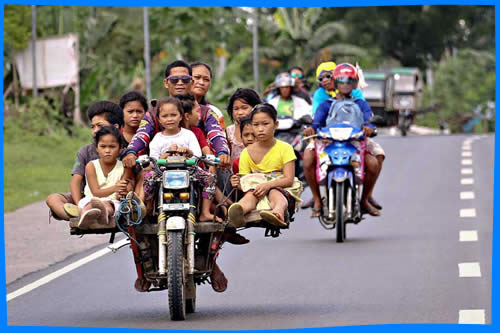 habal habal
In Metro Manila, motorbike is an everyday picture, with 1 to 2 riders on a motorbike. However, the number of passengers changes markedly when the journey takes place on the roads of Mindanao and in some parts of the Visayas.
The Habal-habal is an extremely improvised two-wheeled motorized vehicle that is usually ridden outside of its passenger capacity. Since it is used as public transport especially in areas with narrow roads, and in steeper, rougher terrain, a habal habal can often carry up to 6 passengers, at a minimum. Yes, some drivers manage to fit more than 10 people on two wheels with luggage ranging from vegetables and groceries to livestock like chicken.
Calesa
Calesa – A horse-drawn carriage that once pounded the streets, but is now mostly used by tourists to see the city's sights.
If you are visiting the historic city of Vigan, Ilocos North, the trip to the cales is something you should not miss. A tour in a horse-drawn carriage through the ancient streets of the former Spanish possessions gives an unforgettable feeling. Manila, namely Intramuros, also offers old-fashioned "cales" rides with your private driver in full suit who is also a guide.